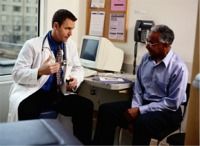 Too many regions of England are failing to provide adequate help for people trying to cope with the aftermath of a stroke, a damning official report said yesterday. In some areas people have little or no access to rehabilitation services in the community. Specialist physiotherapy is only available in two thirds of England and barely a third of the country enjoys good access to psychological and counselling help, according to the Care Quality Commission.
Only the north-east and south-west of the country win praise from the Commission. The report shows that nearly half the country has to wait at least two weeks for speech and language therapy for stroke patients who are sent home – in spite of the critical need to get therapy moving as soon as possible. Just 65 percent of patients had a care plan for support in the community. Just 26 per cent of helplines were available outside office hours – and 38 per cent failed to train staff to talk to people with speech problems, the report continues.
Chief executive Cynthia Bower said: "The level of variation is a concern, but the report also shows that the barriers to effective care after transfer home and
around person centred care can be overcome and improvements made, which can help people to recover from, and cope with, life after stroke." Health secretary Andrew Lansley said the government was putting cash into "re-ablement" and pledged the allocations would continue – reaching £300 million a year by 2012.
He said: "We need a more integrated approach to stroke that covers hospital and home care. That's why our reforms allow the NHS to focus on outcomes -covering the entire patient pathway – so that our stroke outcomes will match the very best in Europe." A spokesperson for the Patients Association condemned the variations as "not acceptable". She said: "Why should some patients be denied care that is proven to improve quality of life after a stroke just because of where they live? Those areas that are struggling to meet appropriate standards of care must learn from area of best practice how to overcome the barriers to community care for stroke sufferers."