The new coalition government is set to renegotiate the GP contract, hoping to introduce changes to patient registration and out of hours care, it announced yesterday.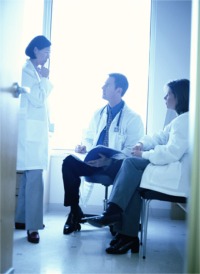 During the election health secretary Andrew Lansley said he wanted GPs to take back responsibility for out of hours care.
The coalition programme, announced yesterday, stops short of setting out this objective. It calls for a 24/7 urgent care service in all parts of England, including GP out of hours services. A single telephone number will be introduced to call the service. It also reaffirms commitments to abolish practice boundaries, allowing patients to register with any GP. The document says patients will be able to rate hospitals and doctors for the quality of care.
And it says the success of the government policy will be measured by "results that really matter", such as improved cancer and stroke survival rates. And it pledges a Cancer Drugs Fund to improve access to new treatments for cancer. There is also to be an independent commission on long-term care. Mr Lansley said: "This document sets out a clear message to the NHS. That our united vision is for a healthcare system which achieves outcomes that are amongst the best in the world, and free from day-to-day political interference."
The British Medical Association said it was "willing and ready" to discuss the government proposals – but said abolition of practice boundaries would be "costly". Chairman Dr Hamish Meldrum said: "While we support sensible suggestions to improve patient access and choice, enabling patients to register with any GP practice they want will, in reality, be very complex, potentially more expensive and could threaten that important relationship between a doctor and his or her patients."
He added: "We agree that producing the best possible health outcomes must be a
priority. Doctors always want to strive to improve their clinical results;
however, it is essential that mechanisms for collecting and publishing data are robust, evidence-based and meaningful to health professionals and patients." The Royal College of Physicians welcomed proposals to "curtail" the deep discounting of alcohol.
President Professor Ian Gilmore said: "The nation's growing dependence on alcohol is putting a huge strain on limited NHS resources, especially in hospitals. It is also apparent that previous government policies to reduce health harms caused by alcohol
misuse failed make a real impact."