Lung cancer patients are more likely to survive in Norway and Sweden compared with England because they are treated differently in the first 12 months of diagnosis, researchers say today.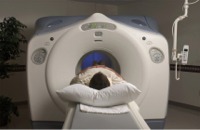 A study published in Thorax shows that the chances of a lung cancer patient in England dying in the first three months after diagnosis between 2001 and 2004 were between 23 per cent and 46 per cent higher than they were for a patient in Norway, depending on age and sex. They were between 56 per cent and 91 per cent higher than for a patient in Sweden.
The 12 authors from Norway, Sweden and England believe it could be because patients in England are less likely to be actively treated with surgery and drugs than their Scandinavian counterparts. They suggest reasons for this include poor symptom awareness in England and the fact that patients delay seeking medical help. When they do, the disease is already advanced and beyond curative treatment. The study, National comparisons of lung cancer survival in England, Norway and Sweden 2001-2004: differences occur early in follow up, is based on findings on five year survival rates for lung cancer patients who were diagnosed between 1996 and 2004.
Lung cancer registries show that a total of 250,828 patients were diagnosed in England, 18,386 in Norway, and 24,886 in Sweden. But researchers revealed that almost twice as many Swedish lung cancer patients survived five years compared with their English counterparts.
Set against the expected survival for a given age, 11.3 per cent of Swedish men diagnosed with lung cancer survived five years compared with 9.3 per cent of Norwegian men and 6.5 per cent of English men.
In women, just under 16 per cent of women diagnosed with lung cancer in Sweden survived five years compared with 13.5 per cent in Norway and 8.4 percent in England.
A comparison of the three countries by a group of 12 academics found that although healthcare spend and infrastructure in each was similar, there was a disparity in survival rates. Meanwhile, Italian oncologists are conducting trials to find the most effective treatment for elderly patients with non-small cell lung cancer (NSCLC). The study by Paolo Maione, Antonio Rossi, Cesare Gridelli and colleagues from S.G. Moscati Hospital in Avellino, said that although two-fifths of lung cancers were diagnosed in the over 70s, there was little data on the safest and most effective treatments.
Elderly patients do not have more co-morbidity and do not tolerate toxic medical treatments as well as younger patients, which means that clinical findings from studies on younger populations are often irrelevant to the majority of elderly patients with NSCLC. Writing in Therapeutic Advances in Medical Oncology, Gridelli called for the evaluation of cisplatin-based chemotherapy – the standard approach for patients with advanced NSCLC – because there is no evidence of its benefits for elderly patients. The authors performed their own phase I/II trials looking at attenuated doses of cisplatin combined with gemcitabine or vinorelbine in elderly patients with advanced NSCLC. Their results, published in 2007, showed that gemcitabine combined with cisplatin deserved comparison with single agent therapy for this patient group.
The researchers are now launching a phase III randomised trial of cisplatin plus gemcitabine versus gemcitabin.
Thorax 2010; 65: 436-41;
Therapeutic Advances in Medical Oncology DOI:10.1177/1758834010366707